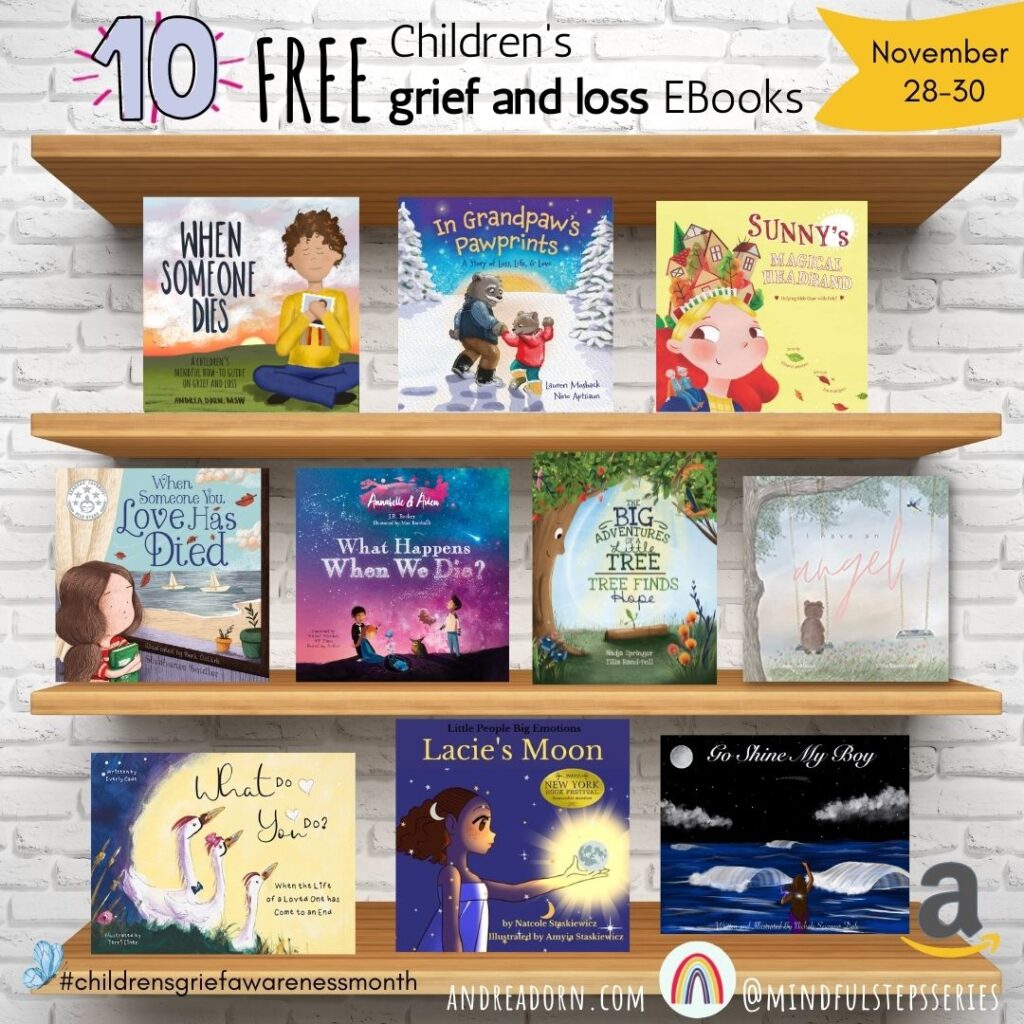 November is Children's Grief Awareness Month and Andrea Dorn, a psychotherapist, and author of the Mindful Steps Series, sent an open invitation to fellow authors who have written children's books about loss. As part of this campaign that she organized, you can download 10 eBooks for free, including my book "Sunny's Magical Headband"; just search for them at your local Amazon store (the one you typically use to purchase eBooks ie for me, even though I live in Europe, my Kindle account is connected to the Amazon US store).
This offer is valid 28th-30th of November in the USA, but in Europe, the eBooks can be downloaded for free from about 09:00CET on the 28th till about 09:00 on the 1st of October!
-> Click here to read an interview with Andrea Dorn where she answers questions such as "How can we as parents better support our grieving children while at the same time we are most probably also experiencing grief?"
-> Click here to read an interview with Lauren Mosback, a mental health therapist and children's book author where she answers questions such as "What other tips would you recommend to better support a child going through the bereavement process?"
Watch the video below for a brief presentation of the different books!
See below for a complete list of free ebooks available. Copy and paste on Amazon for easy searching!
When Someone Dies: A Children's Mindful How-to Guide on Grief and Loss by Andrea Dorn
In Grandpaw's Pawprints: A story of Loss, Life, and Love by Lauren Mosback
Sunny's Magical Headband by Elisavet Arkolaki
When Someone You Love Has Died by Stephanie Seidler
What Happens When We Die? By J.R. Becker
The Big Adventures of a Little Tree: Tree Finds Hope by Nadja Springer
I Have an Angel by Laura Feldman
What Do You Do? When the Life of a Loved One has Come to and End by Everly Cade Lacie's Moon by Natcole Staskiewicz
"Go Shine My Boy" and "Go Shine My Girl" by Nichole Dale
Category: Uncategorized