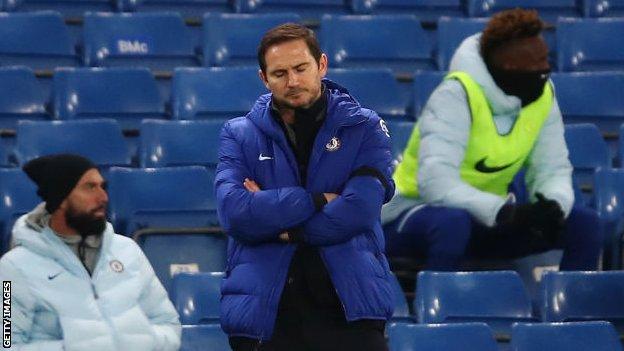 Chelsea have sacked manager Frank Lampard after 18 months in charge, with former Paris St-Germain boss Thomas Tuchel expected to replace him.
Lampard, 42, leaves with the club ninth in the Premier League after last week's defeat at Leicester City, having won once in their past five league matches.
His final game was Sunday's 3-1 FA Cup fourth-round win against Luton.
Lampard was appointed on a three-year contract when he replaced Maurizio Sarri at Stamford Bridge in July 2019.
In a statement released on Monday night, Lampard said he was "disappointed not to have had the time to take the club forward" and added that it had been a "huge privilege and an honour" to manage the club.
"When I took on this role I understood the challenges that lay ahead in a difficult time for the football club," he continued.
"I am proud of the achievements that we made, and I am proud of the academy players that have made their step into the first team and performed so well. They are the future of the club."
Chelsea are hopeful that new manager Tuchel will be on the bench for Wednesday's Premier League game against Wolves at Stamford Bridge.
He will not be exempt from coronavirus quarantine.
But if Tuchel tests negative on entry to the United Kingdom and then negative again in order to enter a Premier League club's bubble, he will be granted an exemption by the Football Association for attending matches and training.
He will still have to serve a quarantine period outside of those environments, which will last five days.
'A difficult decision'
Former Chelsea midfielder Lampard guided them to fourth place and the FA Cup final in his first season in charge, and a 3-1 win against Leeds in early December put the club top of the Premier League.
However, the Blues have suffered five defeats in their past eight league games, as many as they had in their previous 23.
In a statement, Chelsea said: "This has been a very difficult decision, and not one that the owner and the board have taken lightly.
"We are grateful to Frank for what he has achieved in his time as head coach of the club. However, recent results and performances have not met the club's expectations, leaving the club mid-table without any clear path to sustained improvement.
"There can never be a good time to part ways with a club legend such as Frank, but after lengthy deliberation and consideration it was decided a change is needed now to give the club time to improve performances and results this season."
Owner Roman Abramovich said Lampard's status as an "important icon" of the club "remains undiminished" despite his dismissal.
"This was a very difficult decision for the club, not least because I have an excellent personal relationship with Frank and I have the utmost respect for him," said Abramovich.
"He is a man of great integrity and has the highest of work ethics. However, under current circumstances we believe it is best to change managers."
| | | |
| --- | --- | --- |
| Date | Score | Result |
| 12 December | Everton 1-0 Chelsea | L |
| 15 December | Wolves 2-1 Chelsea | L |
| 21 December | Chelsea 3-0 West Ham | W |
| 26 December | Arsenal 3-1 Chelsea | L |
| 28 December | Chelsea 1-1 Aston Villa | D |
| 3 January | Chelsea 1-3 Man City | L |
| 16 January | Fulham 0-1 Chelsea | W |
| 19 January | Leicester 2-0 Chelsea | L |
Lampard did not sign a single player during his first season as the club were operating under a transfer embargo, but spent more than £200m on seven major signings last summer, including £45m on Leicester's Ben Chilwell and £71m on midfielder Kai Havertz from Bayer Leverkusen.
It is the most Chelsea have spent in one summer, eclipsing the £186m they invested at the start of the 2017-18 season.
Lampard is Chelsea's all-time record scorer, with 211 goals for the club between 2001 and 2014, and is also joint-seventh on the list of most capped England players, having made 106 appearances for his country over 15 years from 1999.
During his 13 seasons as a player at Stamford Bridge, he made 648 appearances and won 11 major trophies – including four Premier League titles and the 2012 Champions League.
His first managerial job was at Derby. In h
is one season in charge, they reached the Championship play-off final, where they lost to Aston Villa.
Lampard became the 10th full-time manager appointed by Abramovich since the billionaire bought the club in 2003.
According to football finance journalist Kieran Maguire, Abramovich had spent £110m on sacking managers before Lampard's dismissal.
Having finished with 66 points last season after 20 wins and 12 defeats, Chelsea have lost six times in their opening 19 league games this season.
Lampard's points-per-game average of 1.67 is the lowest of any permanent Chelsea manager in the Premier League. During the Abramovich era, only Andre Villas-Boas (47.5%) has a worse win rate than Lampard's 52.4%, in all competitions among permanent Chelsea bosses.
In contrast, Jose Mourinho's win rate in all competitions during his first spell in charge was 67.03%, while Sarri, Antonio Conte, Avram Grant, Carlo Ancelotti and Claudio Ranieri all had win rates over 60%.
Analysis – lack of confidence among squad key to sacking
BBC Sport's Alistair Magowan
Lampard was sacked because the club could not see him reversing a slide in form.
After qualifying for the Champions League last season and spending more than £200m on players in the summer, the aim this campaign was to close the gap on the leaders, but that has not been achieved.
Although links will be made between Tuchel's heritage and the poor form of fellow Germans Kai Havertz and Timo Werner, the change was made because of the lack of confidence among the whole squad.
It is hoped that Tuchel can rejuvenate a team that is five points outside of the top four, and an announcement could be made within 24 hours.
The decision to sack Lampard was very difficult for Abramovich, who has never made a statement when changing Chelsea managers previously.
In the end, Lampard paid for his relative inexperience as a manager, which cannot be said of Tuchel.
Best of reaction to Lampard sacking
Manchester City boss Pep Guardiola: "People talk about projects and ideas. They don't exist. You have to win or you will be replaced. I am not judging Chelsea's decision. I respect their decision. But our world is to win as much as possible.
"I hope to see Frank soon and go to a restaurant with him when lockdown is finished."
Tottenham boss Jose Mourinho: "It is the brutality of football. Anything can happen in football now, every time somebody loses their job it is sad news but he is a big boy, [with] a strong personality and strong mentality.
"I am pretty sure he will be back when he wants to be back and his career will be good. I hope so."
West Ham boss David Moyes: "I'm disappointed for Frank as I saw him as one of the most up and coming young English managers in the country.
"It's a big thing we try to encourage our own British managers into the big leagues, if we can. I'm sure he'll come back and learn from it.
"He did a great job last year – he did a really good job with so many youngsters coming through the academy. It seemed a little bit harder for him this year. I'm sure he'll take time off, come back and get better."
Leicester boss Brendan Rodgers: "Clearly I'm really sad for Frank and his staff. I know how much the club means to him.
"Looking at the squad and how young they are, they need time. He hasn't been given that time. I really feel for him. He did great at Derby.
"He had the courage to step out of an amazing career and could have taken an easier route. It was a job he couldn't turn down, even though he didn't have a lot of experience.
"Results haven't been what he would have wanted, but I feel it's a job that needed time."
Crystal Palace manager Roy Hodgson: "It saddens me. I thought he did an excellent job last season. I was rather hoping that the idol of the fans and Chelsea legend that he is, he'd get a longer shot than 18 months.
"Managers who have had short stays at Chelsea have gone on to have good careers elsewhere. When you're sacked for the first time, it is a devastating blow. There's no doubt he has a pedigree to be a very good manager."
Former Chelsea striker Chris Sutton speaking on BBC 5 Live's Monday Night Club: "It is 52 days since Chelsea were top of the Premier League and 48 days ago that Chelsea had been
on an unbeaten run of 17 games.
"So in the space of 48 days the owner has decided to write Frank Lampard off. How are we ever going to know if Frank Lampard is a good manager? You only every really learn about people and their characteristics and traits when they go through a little bit of adversity and Frank has gone through a little bit of adversity.
"Frank has basically been sacked for the owner's expectations. I feel sorry for Frank because he is a club legend.
"They are five points off fourth place, but the bottom line is that the owner wants to win the Premier League and that was always going to be the pressure.
"Chelsea should have been more loyal. We know the owner's track record – he is ruthless, he is brutal and guillotined Frank."
Scott G: Been a Chelsea fan since Nevin, Speedie and Dixon and admit I've enjoyed all the success money has brought us over the last 20 years. However, there's a sadness about that decision. Some things money can't buy. #SuperFrank
Fil Harris: Isn't the whole point of appointing a younger manager to give him time to build and develop? Craziness from Chelsea to sack Lampard after such a short time.
Simon Kirk: Been a Chelsea fan since 1969 and have never been so annoyed at a sacking of a Chelsea manager. He needed at least another 18 months. Shame on you Abramovich and the Chelsea board for supporting such a decision.
Ryan Howard: I find it such a weird sacking – a month or so ago Chelsea were in a nice groove, Zouma and Silva were scoring and keeping clean sheets, now after one bad run he gets sacked. Chelsea could be a world-class club if they just gave a manager proper time to build a team.
Peter Josi: Chelsea are totally right to sack Lampard, he lacked the experience or coaching prowess to lead the side. The next phase should start with an investigation into our transfer policy and how our last two record signings turned out to be flops.
Thomas Wilson: Why are people surprised Lampard was sacked? Chelsea have been ruthlessly successful for 15 years. They are not going to suddenly resort to being generously unsuccessful because of a club legend being at the helm.