Karl Benz built the first car in 1885, and since then many thousands of companies have sprung up trying to make a name for themselves.
But few have survived and here we take a look at how some of those survivors. Sometimes things are a lot more convoluted than you think though, with some companies claiming two (or even three) first cars…
Mercedes-Benz (1886)
This is where it all started – the first company to build a car. Karl Benz built his first car in 1885 and he patented it in January 1886, but the Mercedes name wouldn't be adopted until 1901. That first car (called the Patent Motorwagen, pictured here) had just three wheels and a 0.75hp 954cc single-cylinder engine, but in 1893 Benz built his first four-wheeler, the Viktoria, powered by a 3hp 1745cc engine.
Peugeot (1891)
Peugeot started out in 1842 making salt and pepper grinders before moving into bicycle production 40 years later. Then in 1891 Peugeot built its first car, a four-wheeled machine with a rear-mounted V-twin engine driving the rear wheels via a chain. Just five cars were made in that first year, but this grew to 29 in 1892. By 1900 Peugeot production was up to 500 cars in one year.
Ford (1896)
Henry Ford built his first experimental car in 1896. Known as the Ford Quadricycle, the vehicle would remain a one-off. By 1899 Ford had set up the Detroit Automobile Company which, in 1901, was renamed the Henry Ford Company. Within a year Ford had fallen out with his financial backers and he left to set up a new venture in 1903 – the Ford Motor Company.
Renault (1898)
Louis, Marcel and Fernand Renault set up Société Renault Freres in 1899, having already built a prototype 1CV voiturette the previous year. Capable of 32kph, the Type A got an annual facelift until it went out of production in 1903, by which point it was fitted with a 5hp engine in place of the original 1hp unit.
Fiat (1899)
Fabbrica Italiana di Automobili Torino was founded in 1899 and its first factory opened in 1900; that year just 24 cars were made. The company's first model was the 4HP which was initially fitted with a 679cc flat-twin engine; later cars got an 837cc unit. Fiat started out with just 35 employees; by 1908 it had 2,700 people on the payroll and was capable of producing 5,000 cars each year.
Opel (1899)
Adam Opel set up a company in 1862 to make sewing machines before diversifying into bicycles in 1886. He died in 1895 but his widow and five sons continued the business, introducing their first car in 1899. The engine was a 1,545cc 3.5hp single-cylinder unit and buyers could choose from two- or four-seat editions but the car didn't sell well; just 11 found buyers in 1899 and 24 in 1900. Opel became part of General Motors in 1931, which then sold the company to PSA in 2017.
Buick (1899)
America's oldest surviving car maker, Buick was founded in 1899, which is when it produced its first car – although it didn't make a second until the following year, with the third coming in 1903. Initially named the Buick Auto-Vim and Power Company, series production didn't start until 1904; a year later the company was renamed the Buick Motor Company. That first car was the Model B (pictured here) with a 2,605cc flat-twin engine rated at 16hp. By the end of the year Buick had sold 37 cars but by 1908 annual production had mushroomed to 8,800.
Oldsmobile (1901)
Ransom Eli Olds built a series of experimental and prototype cars in the late 19th century, before launching his first production car in 1901: the snappily named Oldsmobile Curved-Dash Runabout, which featured a 1,565cc single-cylinder engine, a two-speed gearbox and chain drive. Despite anything Ford might have to say on the subject, it was Oldsmobile that was the first to offer a mass-produced car, with 425 Runabouts rolling off the production lines in the first year – a figure that jumped to 2100 in 1902.
Cadillac (1902)
When Cadillac was incorporated in 1902 by Henry Leland to make affordable cars for the masses, his initial offering was the Runabout, retrospectively named the Model A, which was facelifted in 1904 to become the Model B. Power (all 10hp of it) came from a 1,609cc single-cylinder engine mounted under the rear seat.
Ford (1903)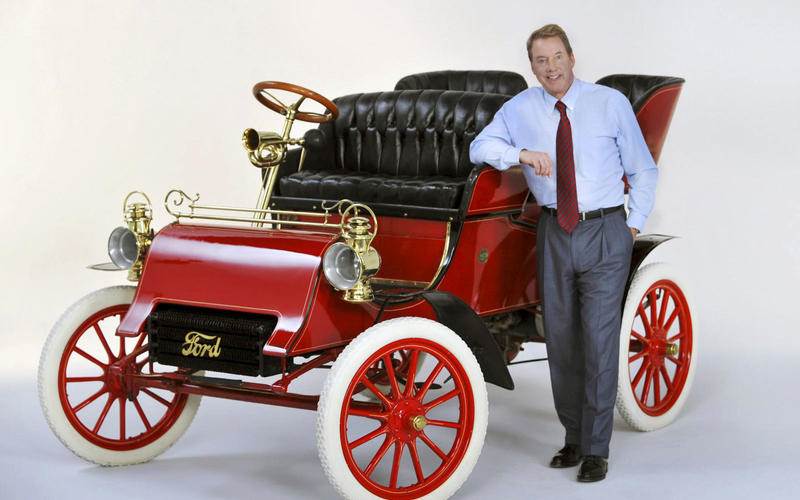 The Ford Motor Company's first product was the Model A, which went on sale in July 1903 and by the time production ended in October 1904 an impressive 670 examples had been made. Pictured is Henry Ford's great grandson Bill Ford Junior, with the world's oldest surviving Model A, built in 1903 – he bought the car for USD 264,000 (nearly Rs 2 crore) in 2012. The Model A featured a 1,645cc flat-twin engine mounted under the rear seat, a two-speed transmission and chain drive.
Rolls-Royce (1904)
Engineer Henry Royce built his first car in 1904, just a month before he met the wealthy aristocrat Charles Rolls by chance. The latter had seen the Royce in action and said to its maker that he would take every car that Royce could make as long as it also had his name on it too. By December 1904 the first Rolls-Royce was ready, although Rolls-Royce Ltd wouldn't be founded until 1906.
That first car was fitted with a two-cylinder 1,809cc engine but by the end of 1906 Rolls-Royce had already built its first car with an eight-cylinder engine.
Rover (1904)
When Rover created its Safety Bicycle in 1885 it created the modern template for the pushbike. Next came motorcycles (in 1902) then in 1904 Rover built its first car, the two-seater Rover Eight. In production right the way through until 1912, the Eight was fitted with a 1,327cc single-cylinder engine that developed a decently gutsy 8hp at 900rpm, but the engine was red-lined at a screaming 1,500rpm. Your Range Rover Evoque ultimately started here.
Skoda (Laurin & Klement, 1905)
Skoda grew out of a company called Laurin & Klement, which started by making bicycles in 1895, moved into motorcycle manufacture in 1899, and then built its first car in 1905. That first car was the Voiturette A (seen here) which was powered by a 1,005cc (later 1,100cc) V-twin engine that developed 7hp. Just 55 were made before the Voiturette B took over in 1906 with a 9hp 1,399cc engine.
Lancia (1907)
One of the most innovative carmakers ever, it's a tragedy that Lancia is now just about defunct. Founded to build sporting and race cars, Vincenzo Lancia set up his own company in November 1906. His first car was ready for trials in February 1907 but before it had left the workshop the factory burned down taking the car, the drawings and Lancia's tools with it. Seven months later Lancia had a new car built from scratch; 100 examples of the Type 51 would be made, each with a 2,544cc four-cylinder engine.
Audi (1910)
August Horch's first car company (founded in 1904) bore his own name, but when he fell out with fellow board members he set up a new company in 1910, called Audi. Its first model was the Type A, fitted with a 2,612cc four-cylinder engine. Just 140 examples were made before the Type B arrived in 1911.
Alfa Romeo (1910)
Launched in 1910, Anonima Lombarda Fabbrica Automobili realised that it really needed a snappier name; ALFA was the result. After Nicola Romeo took the company over in 1915 it was renamed Alfa Romeo in 1918, and its first car was the Torpedo 20-30. However, ALFA's first car was the 4.1-litre 24HP, seen here, which remained in production until 1914.
Morgan (1910)
Harry (HFS) Morgan opened a garage in Malvern to sell and service cars. By 1909 he'd built his own car for his personal use; a year later he put his three-wheeler into production. The first cars were single-seaters but these were never going to be very popular in the marketplace, so by 1911 Morgan's three-wheeler was available with either two seats or four. Power came from a 961cc JAP V-twin engine.
Chevrolet (1913)
Although Louis Chevrolet set up his company in 1911, his first car wasn't sold until 1913. Introduced at that year's New York Auto Show, the Chevrolet Type C (or Classic Six) was pretty impressive with its six-cylinder engine and three-speed gearbox. But it was costly compared with rivals, which is why Chevrolet quickly introduced a four-cylinder model to compete.
Dodge (1914)
John and Horace Dodge set up shop in 1901 to produce bicycle components before moving into car parts supply in 1903; very quickly virtually their entire output was for Ford. Seeing that Ford was producing more and more parts in-house they decided to go it alone with their own car which arrived in 1914. Offered only as a five-seat tourer, Dodge's car featured a 35hp 3,480cc four-cylinder engine and a three-speed gearbox. By 1916 Dodge was America's fourth best-selling brand of car with over 70,000 made in that one year.
Aston Martin (1915)
The first Aston Martin, named Coal Scuttle, was built in 1915. Following Coal Scuttle and the Great War, three more prototype cars were built including one called Bunny, but none of these cars survive. By 1921 Aston Martin was ready to start selling cars and its first production model featured a 1,496cc four-cylinder engine. Just 69 were made before the company went bust – and not for the last time. The car pictured is the oldest surviving Aston Martin, chassis number 3, now owned by the Aston Martin Heritage Trust.
Mitsubishi (1917)
Founded as a shipping firm in 1870, Mitsubishi didn't build its first car until 1917. Just 22 of these leviathans were built, each powered by a 2,765cc four-cylinder engine. Capable of seating seven, the Mitsubishi Model A was based on the Fiat Tipo 3 with a front-mounted 35hp engine that drove the rear wheels and could take the car to 96kph.
Bentley (1919)
Walter Owen (WO) Bentley and his brother Horace sold cars before WW1, but in 1919 they set up Bentley Motors to make and sell sporting carriages for the well heeled. The company's first car was ready for delivery in 1921; by 1930 Bentley had won the Le Mans 24 Hours five times. Bentley's first model was the 3-Litre, 1,622 of which were produced between 1921 and 1929, each with a 2,996cc four-cylinder engine with four valves per cylinder.
Citroën (1919)
Throughout WW1 André Citroen's factory was churning out armaments and although he didn't make his first car until 1919, as early as 1916 he'd decided to go into vehicle manufacture. In March 1919, just four months after WW1 ended, Citroen showed his Type A, with a 1,327cc four-cylinder engine that gave a top speed of 64kph. By the time production ended in 1921, more than 24,000 Type As had been built.
Jaguar (Swallow Sidecars, 1922)
Jaguar didn't start out as Jaguar – it began life in 1922 as Swallow Sidecars, or SS, to make bodies for an array of small cars such as Austin, Singer and Wolseley. Trying to sell cars after the events of World War Two with the name 'SS' was never going to be successful, which is why the name Jaguar was adopted. This was first used as a model name in 1935.
MG (1923)
William Morris (later Lord Nuffield) founded Morris Motors in 1913; a decade later Morris Garages (MG) was born. There's much debate as to what MG's first car was, but it seems to be the Morris Garages Chummy, a sporting two-seater based on the Morris Cowley. Those first cars featured Morris and MG badges and the first adverts for MG were placed in 1923 although the trademark wasn't registered until the following year.
Triumph (1923)
Based in Coventry, Triumph entered the bicycle market in 1885; motorcycles followed in 1902 and then in 1923, the company built its first car. This was the result of a takeover of the Dawson Car Company with Triumph's first model being the 1.4-litre 10/20. Built until 1926, around 2,500 of these two-seater steel-bodied tourers were made although there was also an aluminium-panelled sports model offered.
Chrysler (1924)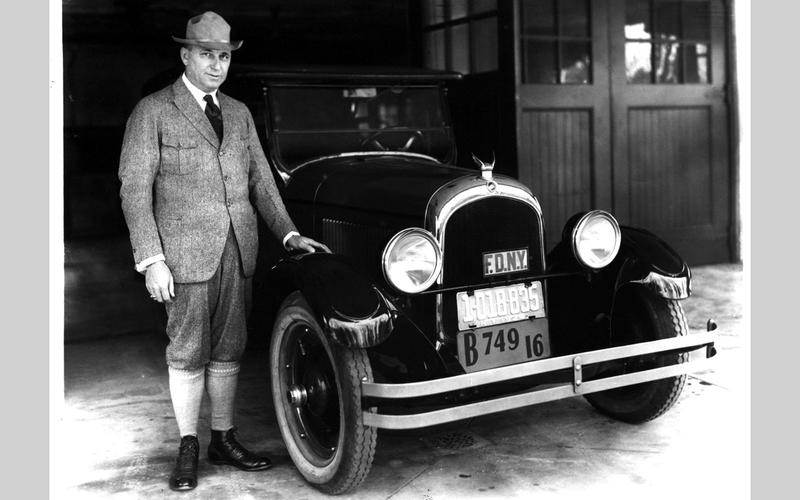 Walter Chrysler had turned around the ailing Maxwell-Chalmers car company, which had been founded in 1904. That company closed down in 1923 so the next year Walter created a new company bearing his own name – and here he is with his very first car, the 70. Fitted with a 3,301cc side-valve straight-six, the 70 was highly innovative with its aluminium pistons, full-pressure lubrication and oil filter. No wonder 32,000 were sold in the first year.
Skoda (1925)
Just like Laurin & Klement, Skoda was also started in 1895, mainly to build armaments, but it expanded rapidly to also offer locomotives, bridges, power stations, ships and much more. In 1919 it started to build steam trucks and heavy road tractors but in 1925 Skoda merged with Laurin & Klement to start offering cars. The company's first model was the Type 110, an evolution of L&K's Types 100 and 105, powered by a 1,791cc four-cylinder water-cooled engine.
Pontiac (1926)
In the 1920s General Motors had Chevrolet at the bottom end and Cadillac at the top. There was also Oldsmobile which was closer to Cadillac than Chevrolet; what was needed was a brand that offered affordable, high-quality cars. Pontiac was launched in 1926 to fill that gap; its first model was a 3.1-litre car available in two-door sedan or coupé forms, both priced at USD 825 (about Rs 60,000). The car proved a big hit with almost 77,000 sold in the first year.
BMW (1927)
BMW started out as a manufacturer of aircraft engines in 1916, in 1923 it launched its first motorcycle then in 1927 came the Dixi 3/15, BMW's first car. It was an Austin Seven built under licence with barely any changes; aside from the steering wheel moving from the right to the left the two were pretty much interchangeable.
Volvo (1927)
Founded by Assar Gabrielsson and Gustav Larson, Volvo built its first car in 1927. Called the OV4 and offered only as an open tourer, power came from a 1,940cc four-cylinder engine with a peak power output of just 28hp at 2,800rpm. At this stage only eight airbags were fitted as standard along with 31 warning lights on the dash and 14 buzzers, but Volvo soon upped its game.
Nissan (1931)
Nissan started out as the Kaishinsha Motorcar Works in 1911 before changing its name to DAT Motorcar Co in 1925 then again to Nissan in 1934. However, many of the company's products were sold as Datsuns (initially Datsons) until 1986, when Nissan was adopted as the global brand. Although cars were made in limited numbers from as early as 1914, the first Datsun didn't arrive until 1931.
The Type 10 was a clone of the Austin Seven and initially it featured a 495cc four-cylinder engine, which was later enlarged to 747cc – the same displacement as the Austin unit.
Toyota (1936)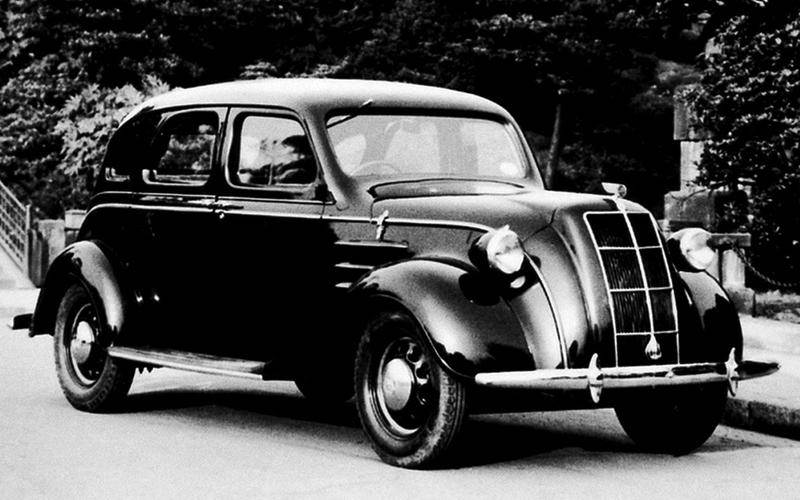 Toyota's first car was the AA, presented in 1936 and powered by a 3.4-litre six-cylinder engine; 1,404 were made. The first home-built car for the Japanese market, its public debut at an exhibition in Tokyo, together with a cabriolet version (the AB), helped prompt the Japanese government to give the Toyoda Automatic Loom Works permission to build vehicles, opening the way for the founding of Toyota and the immediate construction of its first auto factories.
Jeep (Willys, 1941)
Hmm – where to start with this one? The first Jeeps were made by Willys and Ford in 1941 and later on by French companies Hotchkiss and Delahaye. Power came from a 2.2-litre four-cylinder engine which drove all four wheels via a three-speed manual gearbox. In time the Jeep would become a staple product for Willys-Overland, which went on to launch the Station Wagon, Truck and Jeepster.
Jaguar (1945)
Rising from the ashes of SS Cars was Jaguar, which was incorporated in March 1945. With six years of hostilities just having taken place Jaguar hadn't been able to develop a new car so it just put the SS 2.5-litre sedan back into production. Alongside a 3.5-litre sedan, this 2,664cc car would have to sustain Jaguar until the arrival of the MkV in 1948.
Volkswagen (1945)
Although the first examples of Hitler's KDF wagen were built in 1936, the first production cars weren't made until 1945. When the British Army liberated VW's Wolfsburg factory the car, the Type 1, was offered to various British companies, all of which turned it down saying it could never be commercially successful. Unofficially called the Volkswagen Beetle, the air-cooled sedan went on to become the most successful car in history with more than 21 million built by the time production ended in 2003.
Ferrari (1947)
When Enzo Ferrari severed his ties with his previous employer Alfa Romeo (he was the company's competition manager), he was forbidden from building any cars bearing his own name for seven years. So his first cars were built under the Auto Avio banner in 1940; after just two were built the company's focus turned to making machine tools and ball bearings for the war effort. The first Ferrari appeared in 1947: the Tipo 125 featured a 1,498cc V12 rated at 118bhp. A year later Ferrari would take part in its first Grand Prix, using this engine in supercharged form.
Maserati (1947)
There were six Maserati brothers and five of them (Carlo, Bindo, Alfieri, Ettore and Ernesto) devoted their lives to cars and motorsport. They launched their own car-making company in 1926, but the focus was exclusively on racing cars; it wouldn't be until 1947 that the Tipo A6 arrived, powered by a 1,488cc straight-six. Later would come a 2.0-litre version and an array of special-bodied cars.
Jaguar (MkV, 1948)
So here it is – Jaguar's third first car. The company's original first car was when Jaguar was called Swallow Sidecars, the second was just an SS car that was sold as a Jaguar and this was the first car from Jaguar that didn't start out as an SS. The MkV came in saloon or drophead forms and was fitted with the same choice of 2,664cc or 3,485cc straight-six engines as before. Production lasted until 1951 when the MkVII took over; there was no MkVI, probably because Bentley was selling its own MkVI at the time.
Land Rover (1948)
Now owned by Tata, Land Rover was originally an offshoot of the Rover Car Company which wanted to increase its exports and it also spotted a gap in the market for a vehicle capable of tackling harsh terrain. The result was the Series 1 of 1948, powered by a 1.6-litre petrol engine. Production started in July 1948 and within three months Land Rover had dealers in an astonishing 68 countries around the world.
Porsche (1948)
Ferdinand Porsche founded a design and engineering consultancy in 1931 but he wouldn't build his own car until 1948, having already created the VW Beetle before WW2. Porsche's first car was the 356 and here is Ferdinand Porsche with his son (confusingly also Ferdinand Porsche) with that first car, which was effectively a rebodied Beetle complete with 1,131cc engine.
Jeep (1953)
Willys continued production of the Jeep until 1953, when it was swallowed up by Kaiser Motors, renamed Kaiser-Jeep in 1963. At first there was an updated version of the wartime Jeep available but the big news was the Wagoneer station wagon which came with a 3,770cc six-cylinder engine and could be ordered with rear- or four-wheel drive.
Suzuki (1955)
Suzuki started out as a motorbike manufacturer, but in 1955 it moved into making cars and small trucks with the Suzulight brand – the first ever kei car. First came the SF (Suzuki Four-wheel car) in two-door sedan, van and pick-up forms, each with a 360cc two-cylinder two-stroke engine driving the front wheels. But with just a handful of sedans built, these first forays into four-wheeler production were effectively just commercial vehicles.
Subaru (1958)
A world away from the turbocharged four-wheel drive rally monsters of the 1990s, this was Subaru's first passenger car, which arrived in 1958. It featured a rear-mounted 356cc two-cylinder engine, a three-speed gearbox and came in two-door sedan, estate or convertible forms. Incredibly, the 360 proved popular in the US – until the press ran stories of how badly the Subaru fared in a head-on crash with a contemporary US car.
Mazda (1960)
Mazda started out as Toyo Kogyo in 1920, making machine tools. Four decades later the company built its first car, the R360, pitched squarely against rivals from Subaru and Suzuki. With room for four (allegedly), the R360 initially came in two-door coupé form only, although a convertible was added later. The 356cc V-twin engine was rated at a throbbing 16hp; enough to whisk its occupants all the way up to a heady 84kph.
Honda (1963)
Soichiro Honda didn't build his first four-wheeled vehicle until 1963: the T360 pick-up. But he'd started out as a mechanic in 1937 before moving into parts supply, motorised bicycles, engines and motorcycles; by 1959 Honda was the world's largest motorcycle manufacturer. Within two months of the T360 going on sale, Honda launched its first car; the S500 roadster with a 531cc four-cylinder engine. Honda built 1,363 of them in a year before the S600 took over.
Lamborghini (1963)
Lamborghini got off to something of a false start as its first attempt at producing a road-going production car was so badly received that it had to go back to the drawing board and come up with something different. That first prototype was the 350 GTV, unveiled in 1963 and fitted with a front-mounted 3.5-litre V12 rated at 365hp.
Lamborghini (1964)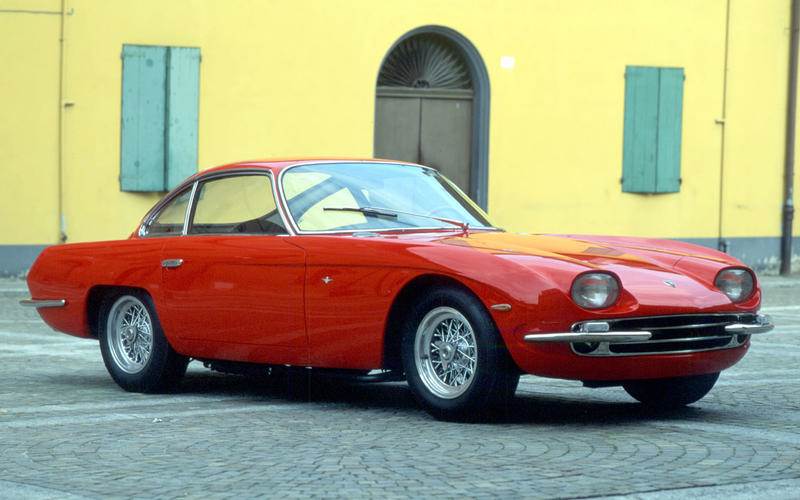 After the 350 GTV had been so poorly received Lamborghini tried again to come up with a two-seater grand tourer with a V12 in the nose. The result was the 350 GT, launched in 1964 and fitted with the same V12 that featured in the Miura. However, while the 350 GT's V12 displaced 3.5 litres the Miura's was a 4.0-litre powerplant. Production of the 350 GT ran until 1966 with 120 examples produced.
Kia (1974)
When you consider what Kia has achieved it's incredible to think that it's one of the newest mainstream carmakers here. Kia was founded in 1944 as Kyungsung Precision Industry and started to make Honda motorcycles under licence in 1957 and Mazda trucks under licence from 1962. However, it wouldn't be until 1974 that Kia would make its first car. Even this was a Mazda produced under licence. Called the Brisa, a 1.0-litre engine was fitted and production ran through until 1981.
Hyundai (1975)
Hyundai was founded as a construction company in 1947, and 20 years later it started to build various Ford cars and trucks under licence. Having hired Brit George Turnbull (formerly of British Leyland), Hyundai introduced its first car in 1975. The Pony was a rear-wheel drive sedan that looked like a hatchback and was fitted with Mitsubishi-sourced engines and running gear. Styled by Giorgetto Giugiaro the Hyundai Pony was simple, rugged and affordable, which was just what the market demanded at the time.
Acura (1986)
Honda launched its upmarket Acura brand in 1986, as a response to import limits set by the US government. Allowed to import only so many cars, Honda focused on its more costly models and stuck an Acura badge on them to appear more exclusive. Few were fooled though; the first models were the Integra and Legend, sold through 60 dealerships across the US.
Infiniti (1989)
Introduced in a bid to take Nissan upmarket in the US, the Infiniti brand could offer just one model when it was launched. The Q45 was a luxury saloon with a 288hp 4,498cc V8 borrowed from the Nissan President. Launched in 1989, within a year the Q45 could be ordered with four-wheel steering and hydraulically controlled active suspension.
Lexus (1989)
When Toyota decided to move upmarket in the US in 1989 it created a new brand that would go on to revolutionise the luxury segment. Uncannily refined, incredibly well equipped and supremely reliable, the Lexus LS400 wasn't much fun to drive but for those who wanted a luxurious large sedan it was a world apart from the usual offerings from the likes of Cadillac, Mercedes and Jaguar.
McLaren (1992)
The first McLarens were M6 racing cars built by a company called Trojan in the late 1960s. A couple of these were converted into road cars but the McLaren we know wasn't born until 1985 when Ron Dennis set up a new company to build road and racing cars. The first fruits of McLaren's labour was the incredible F1 of 1992 – a car that went on to claim the production car speed record at a monstrous 386kph.
Tesla (2008)
Even Tesla probably didn't realize how important its first car, the Tesla Roadster, would be to not just Elon Musk's own company, but the wider industry as well. This Lotus Elise-based sports car was not only the first mainstream electric car with a usable range (of around 240-320km), but also totally reversed perceptions of electric cars with sweet performance, with 0-96kph acceleration of under four seconds. Tesla didn't look back, and the industry has been playing catch-up with it ever since. In leading the world to electrification, the last car company in this story may also be one of the most important.